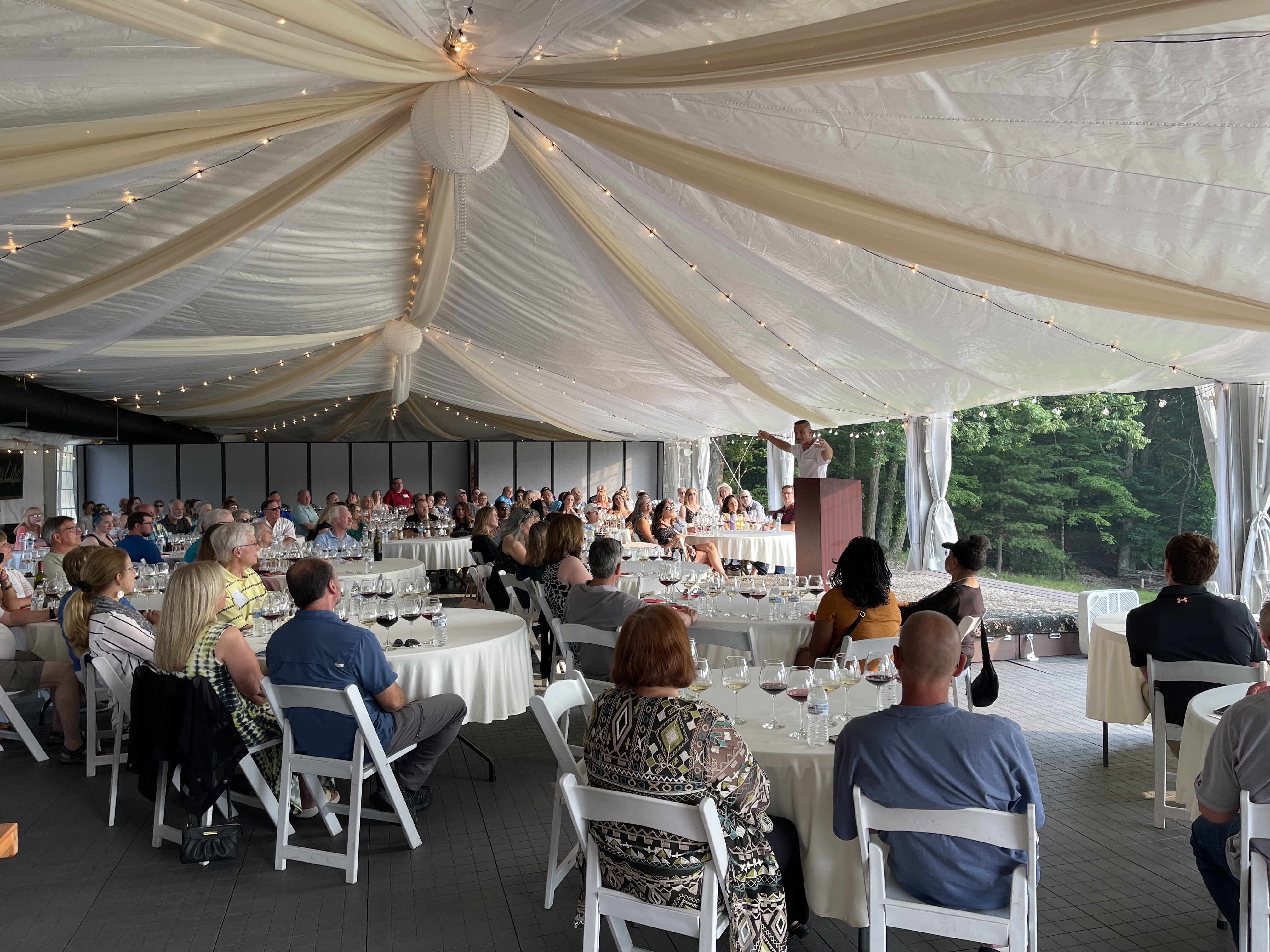 Thank You!
You are most remarkable and most wonderful. With your help we raised $15,000.00 for the Leukemia Lymphoma Society (LLS)!
Our event at the Blue Ridge Winery had it all. Our host, Randy Detrick, presented an inspirational message based on lessons he learned from his amazing mother. We all enjoyed great wines, the beauty of the vineyards, and the companionship of more than 125 like-minded people. These like-minded people were uniformly positive, principled, and generous. What a blessing to share an evening with these folks. We were an island of sanity in a world of crazy.
Thank you again for just being who you are. It gives us great hope for our future.
"Real Life Questions – Real World Answers"
---
"Why does my financial advisor explain things in such a complicated way?"
---
It depends.
Some financial advisors have poor communication skills. Though they may be 'smart' and have your best interests at heart – they can't communicate with you effectively. Unfortunately, that often means you don't want to follow advice that hasn't been well explained to you. Not a good situation.
Some financial advisors have low self-esteem. They cover their insecurities with complicated answers, industry jargon, and long-winded explanations. They may not be well trained. They might not understand their own recommendations very well. They may not be confident they have the correct answer for you. Not a good situation.
Some financial advisors are not nice people. They may be more motivated by money than by serving your best interests. They may get pleasure from feeling superior to you if you 'can't' understand how brilliant they are. Some are just plain jerks blowing smoke into the air to take advantage. A terrible situation.
How about a very good situation? Most financial advisors are none of these things. Most are good people, well-trained, with excellent communication skills. If you aren't confident your advisor is all of these things – kick them to the curb, head to the exits, and find one who is. You deserve the very best. And fortunately, there are lots of good ones out there.
---
"I thought the whole idea of a financial advisor was they knew when to get into the stock market and when to get out . . ."
---
Ouch. I'm glad this comment is anonymous. Naïve at best. Embarrassing perhaps.
Your comment suggests that 'timing the market' – knowing when the market is going up (getting in at the right time) and knowing when the market is going down (getting out at the right time) is a reasonable expectation a client should have of their financial advisor.
There are two types of advisors who claim they can time the market. The first is so inexperienced/ignorant they really believe they can. Until they learn they are wrong – their clients will suffer terribly.
The second type is a criminal. They know they can't time the market, but that doesn't matter. They will tell you what you want to hear in order to separate you from your money.
An intelligent client is one that understands that no one can predict the future. No advisor knows when to go into or out of the market. No one gets correct answers from a crystal ball, tea leaves, or the magic eight ball. An intelligent client – in concert with an intelligent advisor – knows they must invest in such a way that they can reach their goals without being psychic. Psychotic is quite real (according to my wife). Psychic is only real in fairy tales and horror movies.
---
"I met with a financial advisor who wanted to know every detail of my financial life – even looking at my tax return. I just want her to invest my money – not be nosey. Where do I go to get just investment advice?"
---
Not at More than Money. You would hate our MtM Financial advisors. We are very nosey. And for many reasons – all of which would benefit you.
In all fairness, there are many (particularly national firms) that offer investment only advisors. In fact, they often refer to themselves as investment advisors rather than financial advisors for that very reason. You won't escape nosey, but the questions will be far less intense and the focus will be on investments only.
Financial regulators require all licensed advisors – legal advisors, in other words – to 'know their client'. They require advisors to ask enough questions that they can have a reasonable basis for their investment recommendations. Not doing so would expose the advisor to very serious repercussions that could cost them their license and career. No intelligent advisor would risk his/her career for one client who didn't want to answer questions.
At More than Money, we take the questions we ask to the next level. We ask questions about every aspect of our clients' lives because we are true financial advisors – not simply investment advisors.
We assist our clients with investment guidance (of course) but integrate our investment advice with tax planning to insure we are not creating an IRS problem with our investment results.
We assist our clients with retirement cash flow planning. In addition, we counsel our clients with appropriate strategies to tailor their Social Security benefits to their needs as well as their Medicare choices.
We assist our clients with their estate planning. Wills, trusts, powers of attorney, and medical directives as basic documents of estate planning. Creating or protecting the family legacy with life insurance or long-term care insurance is often part of our counsel to our clients.
Gifting, college funding, 401(k) management, and many, many more topics become important parts of the services we provide to our clients – in addition to investment planning, implementation, and monitoring.
I hope I've made a solid case for the reason a top-flight financial advisor must be 'nosey'.
In many cases, the positive impact we are able to make in the parts of our clients' lives that are not investment results have made the biggest difference in their lives. And through all this – we become longtime friends. We cherish the relationships we have with our clients. We are with them through the ups and downs of their lives and are there to serve them in either event.
After all, isn't that what you really want from an advisor? A long-term relationship with a trusted advisor who will answer all your questions and guide you through thick and thin is certainly worth a little 'nosey'.
---
Want your own copy of our newsletter? Email: [email protected]
---